Development of a biocatalytic process to methionine

Arkema wanted to develop a process combining a chemical step, a fermentation step and a biocatalytic process for the production of L-methionine, an important amino acid used for animal nutrition.
The enzymatic process enabled to reach 100% selectivity, and was upscaled by Arkema. Arkema's plant in Malaysia, with a reactor of 400m3, has the potential to produce 160 000 metric tons per year of L-methionine.
Source: InfoChimie, « Proteus joue la carte de la Biocatalyse », october 2018. https://www.info-chimie.fr/proteus-joue-la-carte-de-la-biocatalyse,95063
Screening of a diversity of enzymes from exclusive sequences collection
Approach: enlarging the initial selection with more diversity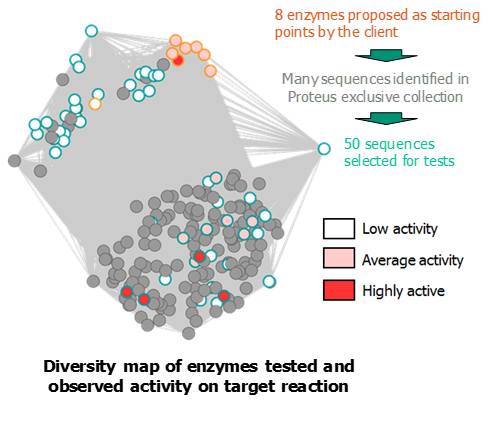 Exemple
Client enzymes as starting point for directed evolution
Proteus genome collection screening for desired activity
More than 200 sequences identified
High sequence diversity compared to the 8 client enzymes
Enzymes selection
Enzymes evaluation
Results: a more efficient starting enzyme with a higher potential for IP generation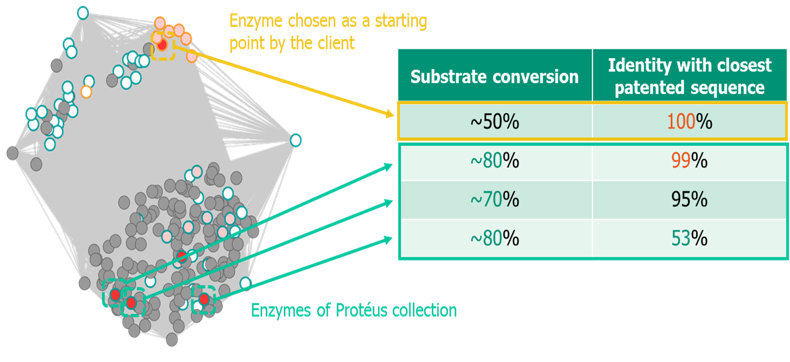 Example
Enzymes identified with similar or higher activity than best enzyme initially selected
Enzymes identified with low identity with already patented sequences
Enzyme from Proteus collection chosen as starting point for directed evolution